SECOND STRIDE HAS MANY VOLUNTEER OPPORTUNITIES. We strive to be a first rate, quality program that is fiscally responsible. Our funding goes straight to the care of our horses. We welcome our adopters and donors to visit our facilities at any time.
On this page we spotlight some of our Second Stride volunteers, and at the same time we hope to inspire others to volunteer their time with us.
We need volunteers to help in many different capacities, including hands-on with the horses (equine mane pullers for instance), fundraising, networking, budget development, office organization, public and horsemen relations. We need "Adoption Coordinators" to go over applications, call references, and set up visits for potential adopters. We need help with data entry to our database where we maintain adoption application information and donated horse information.
We want to thank our intake coordinators, application coordinators, and all the volunteers working the countless phone calls, emails and applications. This is what makes it all happen. Each phone call is a life line for a horse! Thanks also to all the reporters from the various magazines, online organizations, blogs and TV crews that worked this year to get our message out. Please inquire if you too have a talent you can share with Second Stride.
Email us at info@secondstride.org if you'd like to help Second Stride as a VOLUNTEER.
April 2020: Many thanks to Amy Eirich and family for their volunteer work for Second Stride.
---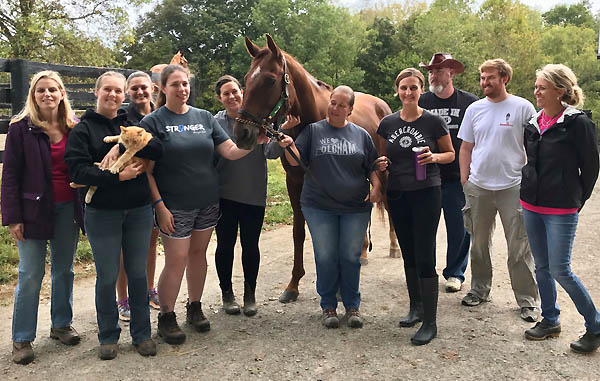 September 2019: The Rawlings Group out volunteering for the horses of Second Stride. Working through clouds and drizzling rain with happy, can do attitudes, sanitizing and cleaning buckets, cleaning and conditioning tack, and generally offering to pitch in and do whatever is needed, and love on our horses. We can't thank them enough for the time they dedicated to us!
---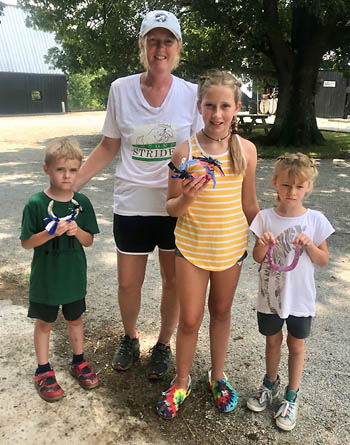 July 2019: Many thanks to Kate Olson for her tireless service to Second Stride! Here she is leading a Second Stride tour with young visitors learning the correct way to hang their lucky horse shoes at home - open side UP so the luck doesn't run out!
---
June 2019: Many thanks to Kirsten for her hands-on volunteer work with our Second Stride horses. Feedback from riders is so important to help place them in the right homes.
---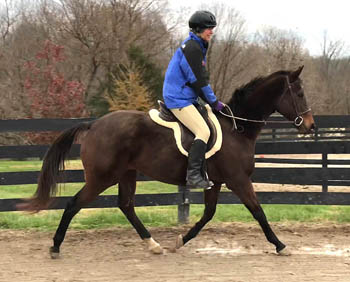 November 2018: Many thanks to Jamie Denton, both for her service to America and her service to Second Stride! Her work with new horses in our program is highly regarded and appreciated by everyone on the Second Stride team. This is Irgun's Star, expertly piloted by Jamie in the mare's first ride back after having 5 foals! From Jamie Denton: "I've been riding for over 25 years, since I was 6, including Pony Club C-3 as a kid. I evented through training level with an amazing, grumpy old Quarter Horse Medicine Hat Paint called Frosty - I got him when I was 12 from my grandparents. He was gentle enough for a 2 year old but made you work hard in dressage (he hated it). He loved fox hunting and cross country though. I was able to take horseback college lessons - best college credit ever! It helped me stay sane while I was in Aerospace Engineering. I commissioned through AFROTC as a 2nd LT and went through pilot training at Sheppard AFB in Texas, then 6 years at Barksdale AFB in Shreveport, LA, flying the B-52. I rode at a fantastic eventing stable, Holly Hill Farm, with a TB/Morgan cross called Jitter and her full Morgan half brother Mel. I deployed to Afghanistan in 2011, then spent over 4 years in Las Vegas flying MQ-9 Reapers. There I rode dressage and stadium jumping on a warmblood called Roman. No XC in the desert though! I deployed last time to Afghanistan in 2013 before I got off active duty and moved to Louisville for the KY Guard, flying C-130s. I was deployed to Kuwait and Iraq this past summer. When I'm not flying I love helping out with the new horses in the Second Stride program, while I look for my next eventing partner."
---